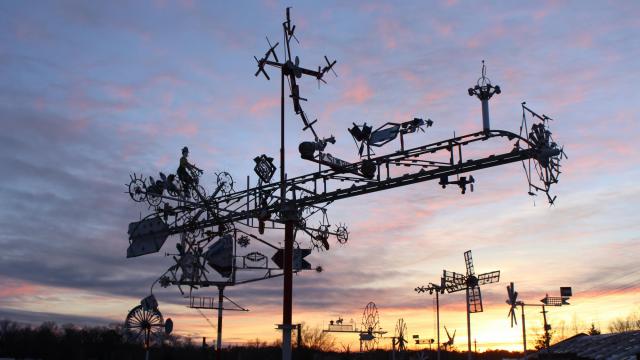 By Jane Albright, freelance reporter
Originally posted on WRAL.com
WILSON – On a recent windy day every wheel spins furiously in mesmerizing colorful swirls of motion in the Vollis Simpson Whirligig Park in downtown Wilson. To see the 30 enormous folk-art sculptures built by the late Vollis Simpson are alone worth taking the exit off nearby Interstate 95 or Highway 264.
The whirligigs were lovingly reconditioned and repaired and dedicated in the park last November. Now, with warm weather, the Whirligig Park will become the site of another swirl of activities worth taking the Wilson exits from the highways.
GIG IN THE PARK!
The Whirligig Park will be the site of a free concert series to bring some of the best of east coast beach music, classic rock, rhythm and blues, reggae, country, tribute bands and more.
The park features a new stage, large multi-purpose shade shelter, plentiful picnic tables, evening lighting and a grassy area for prime listening.
This family-friendly event offers something for everyone, including an array of food trucks, kids' activities, dancing and cold beverages. Free photos of attendees will be offered as souvenirs at the park's first concert.
The concerts are held Wednesday evenings from 6:30 until 9:30 p.m.
2018 CONCERT SERIES
| | |
| --- | --- |
| April 18 | The Embers featuring Craig Woolard​ |
| May 2 | Band of Oz |
| May 16 | Nantucket Band |
| May 30 | Mystic Vibrations |
| June 13 | The Legacy Motown Revue |
MOVIES IN THE PARK
On Fridays starting on April 27, be sure to bring a chair or a blanket at 8 p.m. when the Whirligig Park becomes the site to watch family-friendly movies.
| | |
| --- | --- |
| April 27 | Cars 3 |
| May 4 | Coco |
| May 11 | Leap! |
| May 18 | Despicable Me 3 |
WILSON FARMERS & ARTISAN MARKET
The new Wilson Farmers & Artisan Market will be held Wednesdays and Saturdays, 8 a.m. until 1 p.m., in the Pavilion at the Whirligig Park starting April 21 through Oct. 27.
This farmers market combines the resources of two previous market sites to offer the best of both in one place. Expect to find locally produced vegetables, fruits, meats, honey, eggs, fresh baked goods, seedlings, plants and flowers.
Artisans and artists will offer handcrafted items such as jewelry and paintings, soaps and lotions, Adirondack and pallet furniture, and home-baked breads and desserts.
Adjacent to the structure, designed with a roofline emulating the historic tobacco warehouse that once sat on the park's site, are picnic tables where visitors may enjoy the tasty treats available from the wide array of farmers' offerings and food trucks.
All Whirligig Park events are sponsored by the Wilson Downtown Development Corp.
THE BACK STORY
Farm machinery repairman Vollis Simpson began making gigantic kinetic sculptures at his family farm in Wilson County when he was nearing retirement age.
He kept making his "whirligigs" until about six months before he died at the age of 94 in May 2013.
His field of whirligigs was 11 miles outside Wilson, and after the rise of the Internet, Simpson's farm became one of Wilson County's top tourist destinations. His works appear at the American Visionary Art Museum in Baltimore and the American Folk Art Museum in Manhattan.
As Simpson's health declined, he wasn't able to grease or paint the 50-foot sculptures made from recycled industrial parts.
In 2010, a plan was made to create the Vollis Simpson Whirligig Park in historic downtown Wilson. The whirligigs were restored, rebuilt in some cases and repainted. The Park opened in Nov. 2017.
Read more articles about Wilson on WRAL.com