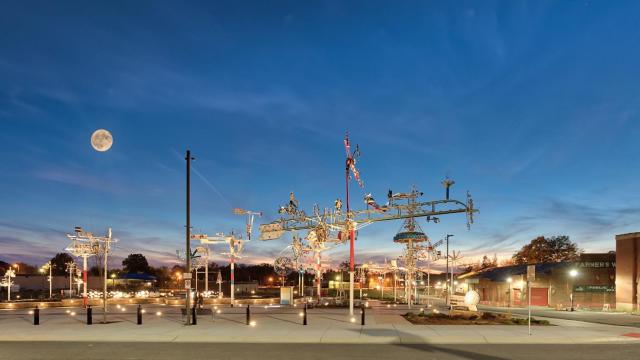 By Latisha Catchatoorian, WRAL Digital Solutions
Originally posted on WRAL.com
When you think of the holidays, family gatherings, gifts, celebratory treats and twinkling lights are few things that may come to mind. While Christmas may look a little different this year due to the ongoing pandemic, it doesn't mean that this holiday will be without festivities or cheer — especially for the City of Wilson.
This year, the City of Wilson is launching a holiday-themed laser light show — Electric Light Fantasy, or ELF for short. Wilson Downtown Development, the Vollis Simpson Whirligig Park and Museum, and Emerald Owl Productions have created "this first-of-its-kind holiday feast for the eyes and ears to provide families with a safe and exciting new holiday tradition."
"Due to COVID-19, like so many others, we had to cancel many of our traditional events. Back in the summer, we realized we probably wouldn't be able to have a parade or concert series or anything like that this year," said Susan Kellum, downtown marketing and communications coordinator for Historic Downtown Wilson. "So, we started planning this drive-in holiday laser and music show. It's not just for our residents, but is a regional event. We want to give people from the coast to the Triangle a unique way to celebrate this year."
"We wanted to figure out what we could do during this time — we went through a lot of ideas, but we wanted to do something unique for this community," added Jeff Bell, arts innovation coordinator and Vollis Simpson Whirligig Park and Museum director for the City of Wilson. "We'd worked with Emerald Owl before in the past and decided to do something bigger and more extraordinary than we've ever done before."
In addition to smaller lasers, ELF will feature a full color, RGB 30-watt laser system similar to those used in theme park light shows. The lasers will create a mesmerizing light show that will be synchronized with Christmas music, which will play through a dedicated FM radio channel.
Families and groups are invited to purchase tickets to watch the show safely from their cars at the Vollis Simpson Whirligig Park in historic downtown Wilson.
"The way it'll work is a person will arrive and park their car in the field on the backside of the park — so you're facing the park and you'll tune your radio to a specific station and there will be a 30-minute holiday laser light show playing to a Christmas playlist we've created," said Bell. "In times like these with the unforeseen challenges that we've all experienced this year, we really wanted to create something innovative, big and special."
But the fun and festivities don't stop when the lights go out and music fades.
Before or after the show, people can visit "Candyland Christmas" in Historic Downtown Wilson where shops and restaurants have transformed into Candyland stops from the beloved board game, including the famous Lollipop Forest, Ribbon Candy Haven and the Gingerbread House. The centerpiece of the Downtown Wilson "game board" is Krueger's Candies, where you can taste delectable old-fashioned fudge and taffy that is made in-house on an antique candy-making machine.
Stops along the way will offer fun activities like ornament-making, cookie decorating and making snow globes in a jar; giveaways; refreshments; and holiday sales.
Other highlights include Santa's Sleigh set up in the Banker's Plaza on Goldsboro Street, where a life-size sleigh is the perfect opportunity to take a selfie or snap a family photo and the Candyland Christmas tree which will be erected on the Courthouse Plaza. Adults can enjoy some after-hours fun at Casita Brewing Company, the Downtown Public House, The New Normal and Ruckus & Redemption.
"We hope people from all over come to see the ELF show this year and that it becomes something that we turn into an annual event," said Bell. "We're excited about the possibilities of this."
"People, especially at Christmas, are really concerned that they're not going to have the traditions that they always look forward to," said Kellum. "So we're launching a new tradition we hope becomes beloved for years to come."
The ELF show will take place at the Vollis Simpson Whirligig Park on Dec. 4 and 5 and Dec. 11 and 12, with four shows per evening beginning at 6 p.m. Tickets must be purchased in advance and can be found here.
All proceeds from ELF will go to support the Whirligig Park for maintenance and upkeep.
Read more articles about Wilson on WRAL.com