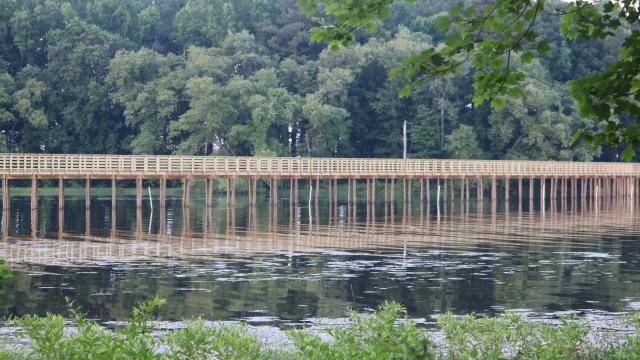 By Latisha Catchatoorian, WRAL Digital Solutions
Originally posted on WRAL.com
Many of us have spent more time at home this year than we ever have before due to the ongoing pandemic. As a result, the draw of being outdoors and in nature has never been more attractive.
As the U.S. News & World Report wrote earlier this year, "COVID-19 restrictions mean closed schools, libraries and other public buildings closed to walk-ins, canceled play dates, restaurants turning to delivery-only, and many businesses telling employees to stay home. Exploring the outdoors is one of the only things left to do."
Luckily, for residents of Wilson, there's no shortage of ways to get outside, move around and recreate. Wilson boasts over two dozen parks, including its famous Vollis Simpson Whirligig Park; a state-of-the-art athletic complex; an aquatics center; a robust golf course and more.
"Obviously COVID has changed a lot on the recreation side of things for us. Of course it's disappointing to have to cancel some of our programming and events, but early on in lockdown we really tried to get people out to use our parks, invited people to birdwatch and walk the trails — just get people out and help create a more positive mindset," said Braxton Patterson, recreation programs and marketing supervisor for the City of Wilson.
"We've got all kinds of cool stuff going on, despite the pandemic," added David Lee, director of parks and recreation for the City of Wilson. "We know how important it is for people to be able to get outside and safely exercise, socialize, and have a bit of fun during this time."
While the following is not an exhaustive list of things to do outdoors in Wilson, it does highlight some of the places and activities that have become popular over the past few months.
Greater Wilson Rotary Park & Lake Wilson Park
Located at 1901 Branch Street and formerly known as Cavalier Terrace, Rotary Park recently got several upgrades such as a new parking lot thanks to a secured grant and fundraising efforts from the Rotary Club of Wilson.
Rotary Parks features a shelter, a half mile ADA accessible paved and lighted walking trail, a bathroom, two multi-purpose fields, a playground and three outdoor pickleball courts — a sport that has become wildly popular this year.
"Nobody really knew what pickleball was and I was getting all these questions about it. I explained that it's the fastest growing racket sport in America — I said it's like if you could play ping pong, standing on the table," said Lee. "And man, once people got the hang of it, it's taken off around here."
The racket sport, which is similar to tennis, but uses a Wiffle ball and has different rules for serving and point scoring, has become a go-to activity for citizens in Wilson. Patterson said if the pandemic hadn't happened, he doesn't know if people would have discovered and fallen in love with pickleball as rapidly.
"There's a group that comes out to play at 7 a.m. every day," said Lee. "It's hilarious because we didn't have any outdoor pickleball courts a year ago and now we don't have enough. It's a great sport for all ages, kids love it, middle-age folks love it, and the seniors absolutely love it. If we had lights out there, I don't think anyone would ever go home."
In addition to upgrades at Rotary Park, the Parks and Rec department decided to build a bridge on the backside of a walking trail that lines Lake Wilson so patrons could finally "complete the loop."
"Lake Wilson is just about the prettiest spot in town," said Lee. "We put that bridge in thinking that it would be nice for people during quarantine. Now we have a two-mile walk around it and man, people are flocking to it."
Lee said the improvements to these parks have become a snowball effect, because once one thing was improved, the department wanted the rest of their parks to match.
"We're getting ready to redo our other reservoir soon — Wiggins Mill. We've got a new plan that is going to implement ramps and a walking trail to the shelter on the east side of the reservoir," said Lee. "That will encourage even more foot traffic outside next year."
J. Burt Gillette Athletic Complex
One of Wilson's crowning glories is the Gillette Athletic Complex — a massive park that features eight full-sized soccer fields, four little league baseball fields, open space, a multi-purpose field, a 3.1 mile cross country trail, a disc golf practice course and more. It's also home to an "All Children's Playground" with a large play area that is handicap accessible, providing the opportunity for positive interaction between children of all abilities.
"The 116-acre athletic complex has eight lighted soccer fields — two of them are artificial turf. There are scoreboards on every field. During a typical year we host all kinds of tournaments, but unfortunately many of them were canceled this year," said Lee. "However, the fields are really, really pristine and nice and we're looking forward to when team programming ramps up again. It's like playing soccer or baseball in a minor league stadium."
Wedgewood Public Golf Course
The 18-hole golf course features a driving range, a short games facility, putting greens, and a park and shelter. There's also a playground, horseshoe pits, and open space for kids to play and run around in.
"The golf course is very popular around here and it's got good rates," said Lee. "When the virus hit one of the first places people thought to go to get outside was the golf course. We've had a very successful last six months at the golf course. The clubhouse and outdoor shelter are a great place to have a snack or something after your game is done too."
Virtual Programming & Outdoor Classes
Patterson and his team have had to get creative to bring the community events that are safe and enjoyable during an unpredictable year. However, with a little ingenuity, the Wilson Parks and Rec department has risen to the occasion.
Virtual exercise classes, step challenges and taking indoor classes like Zumba outside were some ways the Parks and Rec department was able to adjust its programming this year.
"We did a virtual challenge where we encouraged people to get outside and run a mile and the first 25 people who did so got a t-shirt. That went over really well," said Patterson. "Additionally, we had hosted classes outside before when the weather was nice, but we started utilizing our parks and their shelters — like at Rotary Park or the Whirligig Park — to host more classes outdoors regularly, while implementing social distancing."
The department recently concluded a month-long scavenger hunt where participants used a mobile app to hunt for clues at several different parks. Twelve local restaurants provided gift cards and prizes for the winners.
Residents are also excited the aquatic center is open again, and exercise classes and lap swim are back in action — at a safe distance of course.
"I think the pandemic has changed how people feel about getting outside and moving around," said Patterson. "Appreciating little things, like going for a walk, has become really important. We're continuing to think of ways that we can encourage people to recreate and spend time with each other, while making sure we don't draw too big of crowds or put people at risk."
Read more articles about Wilson on WRAL.com