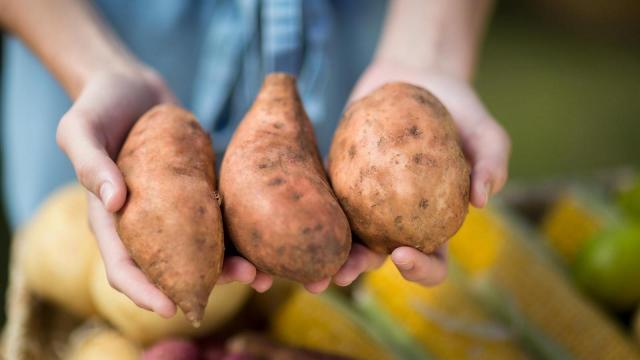 Originally posted on WRAL.com
The Vick family has a long history in the Wilson area.
Jerome Vick and his wife Diane left their jobs in 1975 and went to work transforming a 25-acre farm that had been in their family for generations into a full-time occupation. Their roots on the property go back even farther, though. Jerome's grandfather Olaud Vick had raised all six of his children on the same land.
Since those humble beginnings, the family farm has expanded into one of the largest sweet potato farms in the nation, operating on more than 7,000 acres across Wilson, Nash and Edgecombe counties.
GLOBAL EXPANSION
The expansion of Vick Family Farms has continued not just in size, but also in reach. Charlotte Vick, who, along with her brother Linwood, co-owns and operates the farm with their father Jerome and mother Diane, said around 60 percent of their sweet potatoes are now for overseas consumption, most of that being in Europe.
"Our global reach is very exciting for us," Charlotte Vick said. "I was 5 when my parents left their jobs and started the farm, so I remember all the hard work and late nights getting it off the ground. In the early '80s, we started growing sweet potatoes, but just to sell to local distributors."
In the years after, the operation grew rapidly. The Vicks had one Wilson-area packing facility in the early 1990s and now have another. As the farm grew, the opportunity to sell product overseas emerged.
"Since I do the marketing for the farm, I get to visit all our new markets as we expand," Charlotte Vick said. "When we first got to Europe, they had no idea what a sweet potato was or what to do with it. Now they can't get enough of them. Almost all of our growth at this point is in these overseas markets, like Germany and the United Kingdom."
GIVING BACK
Because of their family roots in Wilson, and how the community supported them along the way, Charlotte said her father has always tried to find ways of giving back.
With a large population of migrant workers working for him, Jerome believes it is important to invest in the local hospital, where he sits on the foundation board, so they will have access to proper healthcare. He also provides produce to the quarterly Wilson Opportunity Industrialization Center food giveaway and free sweet potatoes to a local brewery.
Tom Curran, owner and founder of 217 Brew Works, approached Jerome to see if he'd be interested in a partnership. Jerome jokingly told Curran that he'd be happy to give him as many sweet potatoes as he wished if he would name the beer after him.
"I could tell he was being a little tongue-in-cheek, but I thought it was a fun idea," Curran said. "I came back with branding for a sweet potato beer called 'Vick's Choice,' and they agreed to move forward."
A few times a year, Curran stops by to get another load of potatoes for his next batch of Vick's Choice. He then works with Barton College to prepare the sweet potatoes, using students in the brewing studies classes.
"This is the kind of collaboration that makes Wilson 'Wilson,' " Curran said. "Our community comes together to support each other and to make the area's people a success. The Vick family is obviously a major part of that success."
Charlotte said she has even used Vick's Choice at food expos to introduce the idea of sweet potatoes to beer-wise consumers in places like Germany. Even with their refined palates, she said the beer gets rave reviews and has attracted new interest in sweet potatoes overseas.
"It was rewarding to know that a beer crafted at 217 Brew Works in Wilson and made from Vick's Carolina Gold sweet potatoes was being enjoyed in Germany," Curran said. "It shows what an interconnected world we live in and how Wilson is right in the mix of things."
Read more articles about Wilson on WRAL.com