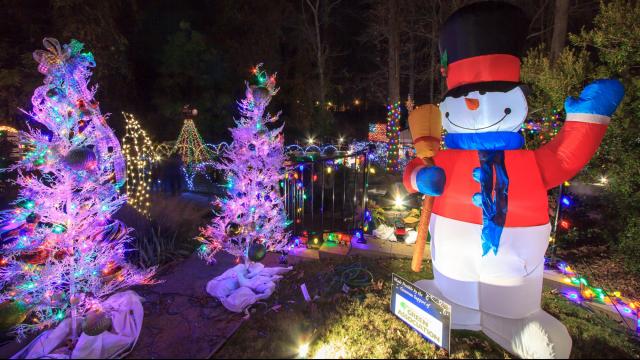 By Renée DeLuca, WRAL Digital Solutions
Originally posted on WRAL.com
Historic Downtown Wilson is known as the "Crossroads of Charm and Innovation," but during the holiday season, it becomes a magical winter wonderland.
Just adjacent to downtown, the Train of Lights returns for its fifth year; and the city transforms into Candyland, inspired by Kreugers Candies, for the seventh annual "A Downtown Christmas" event.
WILSON WINTER LIGHTS
The Wilson Botanical Gardens hosts Wilson Winter Lights for the fifth year this holiday season. The event runs from Nov. 30 through Dec. 9 on weekend evenings (Fridays, Saturdays and Sundays) from 6 until 9 p.m.
Families can experience the beauty and wonder of a walk through 15 different themed areas of the outdoor gardens. Check out Frosty's Forest, Penguins on Parade and Sugarplum Shimmer, as well as the Dazzling Lights display featuring synchronized holiday music with twinkling and colorful lights.
A variety of local musical groups will also be in attendance each night, along with Santa Claus himself. Attendees can take photos with the jolly man at no additional charge.
Hot chocolate and cookies will be available for a nominal fee to raise money for the high school group Future Farmers of America.
Tickets are $5 for ages 13 and up, and $3 for 12 and under. Cash or checks are accepted at the ticket booth (no credit cards) at 1806 S.W. Goldsboro Street.
TRAIN OF LIGHTS
The Train of Lights runs from Nov. 29 through Dec. 16, Thursday through Sunday evenings from 5:30 until 9 p.m. at the Recreation Park Train Depot.
This miniature train has been in operation since the 1950s, primarily in the summer months. Wilson's Parks and Recreation Department began this holiday season event in 2014.
For only $2 per rider (under 1 year old is free), you can ride the train for three laps around the track while viewing charming holiday decorations and listening to Christmas music.
Children can meet "Parks" the reindeer mascot for high fives, hugs and photos.
Hot chocolate, cookies, as well as glow necklaces and bracelets will be offered for sale for just a dollar each, with all proceeds going to the Wilson County Special Olympics.
Many of the decorations came from the famous White's Tire display that many Wilson families remember from years past, and the Train of Lights is an event that is quickly becoming a holiday tradition.
"It was a Wilson family tradition to ride the train in the summertime—my mother rode it, and I rode it as a child," said Braxton Patterson, program and marketing director for the City of Wilson Parks and Recreation Office. "Now those folks can take their children and grandchildren to enjoy the train, see the lights and enjoy the music—it's the perfect combination for holiday fun."
A DOWNTOWN CHRISTMAS
Be sure to mark Dec. 1 on your calendar for Historic Downtown Wilson's transformation into Candyland. Enjoy the free festivities from 10 a.m. until 9 p.m., rain or shine.
Things kick off at 10 a.m. when Miss Wilson Jerenae Raeford sings a collection of holiday songs at Whirligig Park, followed by a short program from the Community Christian School choir, directed by Dooley Ezzard.
A holiday wagon will stop at eight different "shop stops" throughout Wilson. There's no charge, and you can hop on and off as often as you like.
Twenty-five local businesses will be participating in sales, offering food and drinks, and will have contests and giveaways along the way. You'll find a Ferris Wheel at Whirligig Park, as well as other carnival rides and food trucks in several spots.
Then join Mayor Bruce Rose for "Light Up Wilson" at 6 p.m. on the Courthouse Plaza, when he will flip the switch and light the Christmas tree. The WhirliKidz choir will perform under the direction of Jana Winders, and then catch an amazing light show that runs until 9 p.m.
Children can have their names projected onto the courthouse for photos with no reservation needed.
The Candyland theme was inspired by Kreugers Candies shop on Nash Street, according to Susan Kellum, downtown Wilson marketing and communications coordinator.
"Kreugers refurbishes antique candy machines, and has been selling delicious fudge, caramel, taffy and other treats since 1955," she said. "This is the seventh year 'A Downtown Christmas' event has been going on in Wilson—already a cherished family tradition that you won't want to miss."
Read more articles about Wilson on WRAL.com