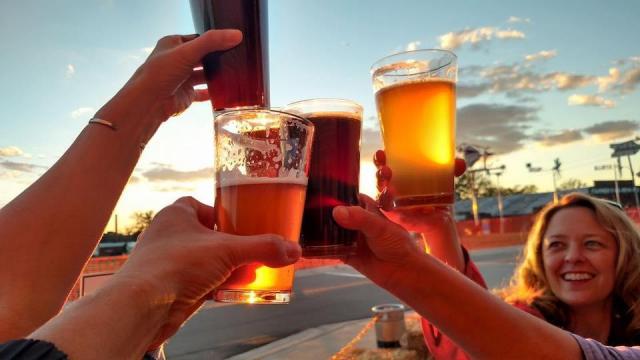 Originally posted on WRAL.com
While Raleigh is experiencing a renaissance, and neighboring Durham, Chapel Hill and Cary are teeming with new industries and residents, until recently, a small North Carolina community just 45 minutes to the east has not shared in the boom.
Wilson, though, is fast being recognized as a low-cost, nearby alternative to the frantic pace of the Triangle.
Ryan Simons, president of the Wilson Chamber of Commerce, said millennials are becoming increasingly aware of the unique value that Wilson provides.
"I think young professionals have discovered that nearly all of the quality-of-life amenities that they thought were only available with our metropolitan neighbors can be found right here in Wilson, far more conveniently and usually at a fraction of the cost," Simons said. "It doesn't take long for Wilson to defy and exceed their expectations."
ADULT SPORTS LEAGUES
A 2015 survey conducted by Sports Marketing Surveys USA found that millennials are twice as likely as their Gen X counterparts to participate in team sports as adults. City of Wilson Athletic Coordinator Brian Massey said he has noticed an increase in interest in his adult sports leagues in recent years.
Massey said one sport that has surprised him in its growth is kickball.
"I always figured it was a backyard sport," he said. "Now it has become one of my easiest programs to run, and the most popular."
Wilson runs adult leagues for softball, kickball, volleyball, soccer, basketball and whatever else people request. Massey said the city tries to be accommodating, so if anyone asks for a sport, his department will try to make it happen.
217 BREW WORKS
Another area of growth for the city that mirrors trends across the state is craft brewing. With more than 205 breweries and brewpubs, and an annual economic impact of $1.2 billion, N.C. has the largest number of craft breweries in the American South, according to the N.C. Craft Brewers Guild.
Enter Tom Curran, owner of 217 Brew Works. The brewery's sweet potato craft beer is a partnership with Jerome Vick, co-owner of Vick Family Farm.
Curran may have only lived in Wilson for 10 years, but he has fully enmeshed himself into the community. He can describe the history of legendary artist Vollis Simpson and his Whirligig Park; he is up-to-date on the local developments of mixed-use properties that are in the works; he is even knowledgeable about the Vick family, and their world-famous sweet potatoes.
Curran not only knows about these staples of Wilson, but he has worked to make himself a part of them.
He set up 217 Brew Works in downtown Wilson, in part to remove the blight of abandoned buildings from around the Whirligig Park. Since then, the brewery partnered with Vick to make the appropriately named Vick's Choice, a sweet potato blonde ale, worked with Wilson's Barton College to offer craft beer internships and has made the 217 Brew Works the unofficial meeting place of the community.
"We are the gathering place for the community," Curran said of his brewery. "And the beautiful thing is, visitors always notice how every age and demographic of our community is represented, including a large contingent of young adults."
GREENLIGHT
City official note that its free Wi-Fi in the downtown region and the availability of high-speed broadband has been another major draw for millennials.
While the Google and AT&T light up parts of the Triangle with Gigabit Internet connections, residents and visitors of Wilson have long had the luxury of enjoying free Wi-Fi downtown with the help of its own internet provider, Greenlight.
The city says Greenlight beats competitors in both availability and speed.
"We don't view high speed broadband as some sort of exclusive amenity that is reserved only for a select few," Simons said. "In Wilson, this is a critical piece of infrastructure that all city residents can enjoy. It's reliability and affordability are Greenlight's calling cards, and they've been a huge draw for this community."
VOLLIS SIMPSON'S WHIRLIGIG PARK
Wilson's main event, though, are the whirligigs. Wilson's Whirligig Festival, created in honor of the unique art form, brings tens of thousands of tourists a year.
There is a park, as well. Vollis Simpson's Whirligig Park, which opened in early November, is full of these folk art constructions, spinning (or whirling) structures several feet above ground built from welded scrap metal. The park complex also includes an amphitheater, museum and farmer's market.
Invented by local artist Vollis Simpson, whirligigs have been recognized by North Carolina as the official folk art of the state, and can be found on the grounds of the North Carolina Museum of Art in Raleigh and as far away as London and Moscow.
The park has many of the most famous examples, and is a visual anchor for the quickly changing downtown.
Read more articles about Wilson on WRAL.com