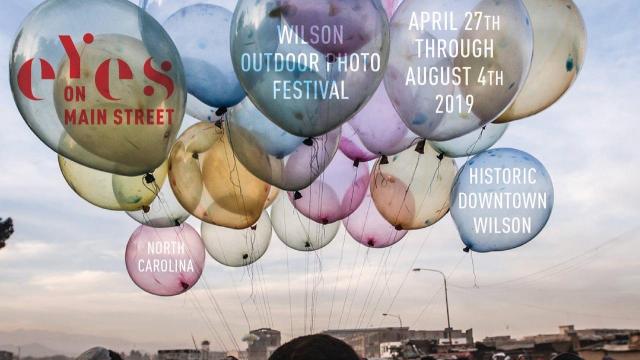 By Latisha Catchatoorian, WRAL Digital Solutions
Originally posted on WRAL.com
If a picture is worth 1,000 words, then the 100 photographs exhibited in historic downtown Wilson will certainly have a lot to say.
The Eyes on Main Street photography festival will return to Wilson for a fifth edition. The outdoor/indoor photography display will feature a main exhibition of 100 vibrant, gallery-style photographs by 100 prominent and emerging photographers that will span more than six city blocks.
Photographers hail from more than 40 countries and both women and men photographers are equally represented throughout the exhibition. Thirteen of the photographers are also from all over the world and were artists in residence for the last month, photographing the city.
The theme for this year is "Main Street, a Crossroad of Cultures." Photographers were instructed to interpret this theme and capture their vision through the lens of their camera. Viewers will get to see that vision translated through a photograph.
The display will be open from April 27 through Aug. 4, and artistic director and curator Jerome De Perlinghi is encouraging people to come take it all in.
"We're bringing the world to the people of North Carolina," he said. "We're giving people a chance to see what the world looks like."
With photos so large — the largest is more than 13 feet wide — there will be details that viewers of pictures often miss. De Perlinghi himself said he finds something new everyday.
In an era when many people spend less than 10 seconds looking at a digital photo before scrolling past it, there's something nostalgic about taking the time to stop and stare.
No matter who you are or what you are seeking, you'll find it on Main Street. You'll view lovers embracing, a New York City worker cleaning up confetti in Times Square, a fire-blowing man in Indonesia, a group of women celebrating in Nigeria, and people escaping smoke in Palestine. They're photographs that capture moments big and small, highlighting the differences and similarities we have as the human race.
"The goal of the festival is to help revitalize historic downtown Wilson, while cultivating cross-cultural understanding through powerful photography," the festival's official website stated.
Over the 100 days the exhibit is on display, the city will host a number of events to celebrate Wilson's commitment to the arts. Lectures, a photo fair and sale, and activities are all on the roster to bring this event to life.
Opening night will feature a street party with local brewery 217 Brew Works, the band Marquise Knox, and the attendance of several of the photographers.
Additionally, the Eyes on Main Street Kids Gallery will feature work that comes out of the youth photography workshops. The program, made possible with the support of Canon USA, is a unique opportunity for photographers-in-training to learn skills and express themselves. De Perlinghi said some of the work is very good, and is interspersed with that of the professional photographers, which makes it challenging to decipher whose work was whose.
The number of anticipated visitors is expected to be around 7,000. De Perlinghi would love it were 10,000.
"The art is free. I would like to encourage everyone to come because it's open to the public," he said. "Where can you meet international photographers in the same town? Sometimes, this is how careers start."
Read more articles about Wilson on WRAL.com